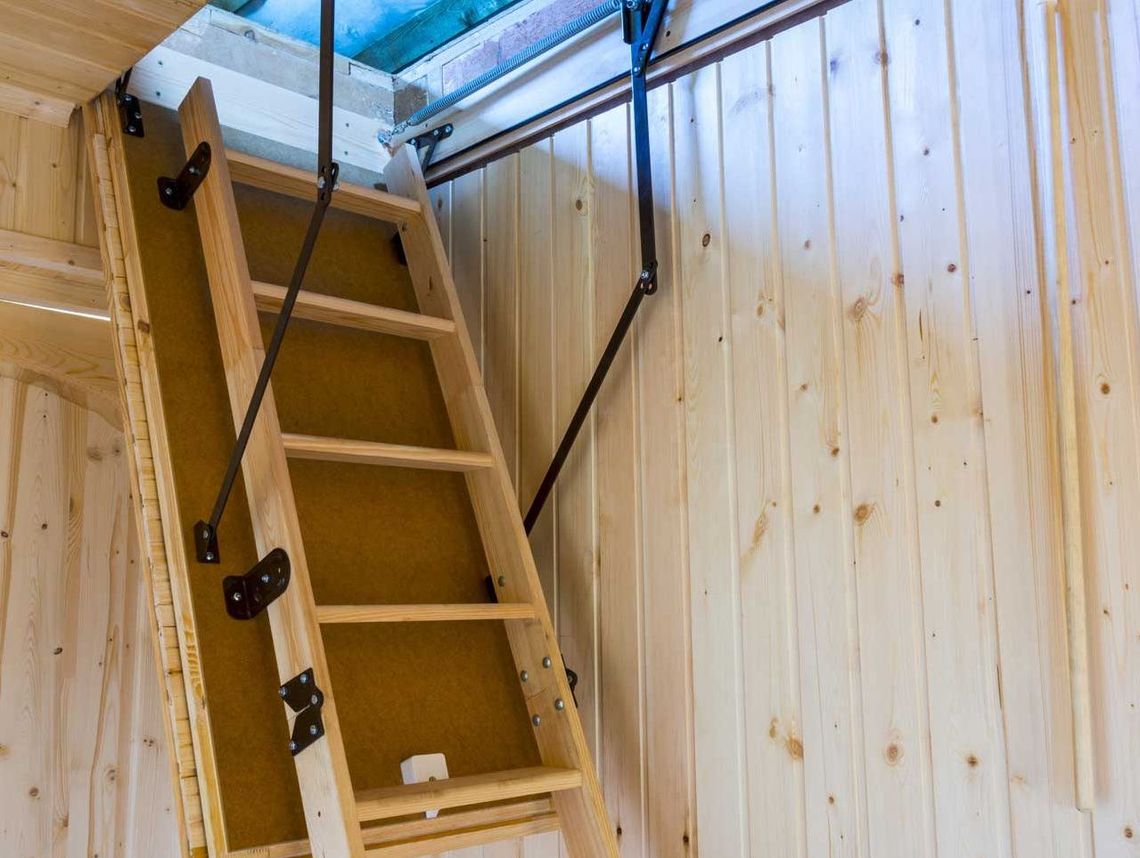 04/11/2022 0 Comments
The Different Types of Loft Ladders and How To Choose The Right One For You
Regarding living space, lofts are often neglected within the home. Many homes don't exploit the potential of this ample space and leave it to do nothing but gather dust.
Perhaps the reason for this neglect is the relative inaccessibility of most lofts.
Many can only get into their loft by stacking tables on chairs or using a rickety unsecured ladder. Therefore every time they get up into their blog, they risk a severe fall.
The obvious solution is to install a loft ladder. However, not all loft ladders are equal and different ladder types are suitable for different homes.
To make sure you make the right choice, here's everything you need to know about the different types of loft ladders and how to choose the right one for you:
What's the Difference Between a Loft Ladder and Stairway?
First, let's get the distinctions out of the way: A loft ladder is a parallel set of stairs that climbs towards the ceiling. A stairway is a set of stairs that leads from one floor to another (usually from the main level to an upper floor). A loft ladder is most commonly installed for one of two reasons: either you have a lofted ceiling that doesn't have an available staircase, or you want to make it as easy as possible to get into your loft.
The Different Types of Loft Ladders

- Solid Metal Loft Ladders
These loft ladders are great for modern and industrial aesthetics. They are made from either stainless steel or aluminium and are lightweight, strong, and corrosion-resistant.
Be warned, though: metal loft ladders can be very loud as you climb them!

- Wood Ladders
If you're in the market for a more traditional wooden ladder, wood may be your material of choice. The wood ladders we provide are made from high-quality timber. Not only do these ladders offer reliable functionality—but they also add a touch of beauty to your home.

-Automated Loft Ladders
If you're looking for a loft ladder that's as high-tech as beautiful, an automated loft ladder may be for you. Most automated loft ladders operate with a remote control or a built-in foot pedal. This makes climbing your loft ladder a lot more convenient and safe, especially for heavier individuals who might be at risk for a fall.

- Loft Stairs
If you have a staircase leading up to your loft, you're good to go with a standard loft ladder. You'll want to get a loft ladder if you don't have an upper-level staircase. A loft ladder is a set of parallel stairs that climbs towards the ceiling. Automated loft stairs are sometimes used but are more commonly used in commercial settings where aesthetics aren't a priority. Residential loft stairs come in a variety of designs to match any aesthetic.
How to Pick the Right Loft Ladder Type for You

Weight Limit
You first want to determine how many people will be using the loft ladder regularly. This will help you choose the maximum weight load your loft ladder can sustain. Our loft ladders can typically hold a maximum of 150 kg.

Your Budget
Last but not least, you should consider your budget. Loft ladders come in a variety of price points. We have loft ladders from Valentine Ladders priced anywhere from €65 to €500. We can recommend the right ladder based on your needs and budget.

Needs of your Home
Some of the last few considerations are the needs of your home. If your loft entrance is inaccessible, this will affect the type of ladder you should purchase. Also, if you're going up and down your loft quite a lot, your should consider investing in a slightly more expensive, sturdy ladder option.

Conclusion
Lofts are a fantastic way to maximize your home's space while preserving your home's architectural integrity. However, you can't maximize your space without a way to access it! No matter how pretty your loft is, it won't do any good if you can't get up there! If you're ready to take full advantage of our loft vire our extensive range of wood and aluminium loft ladders.
Feed